Monlam Grand Tibetan Dictionary
On Tuesday, 30 August, 2022, the Tibetan Government-in-exile donated to the National Library of the CR a precious document. The library´s collections were enriched by 223 volumes of the Monlam Grand Tibetan Dictionary. The NL general director Tomáš Foltýn received the dictionary from the hands of Sikyong Penpa Tsering, chairman of the Central Tibetan Administration, during the donation ceremony, which took place at the Klementinum in the presence of Minister of Culture of the CR Martin Baxa.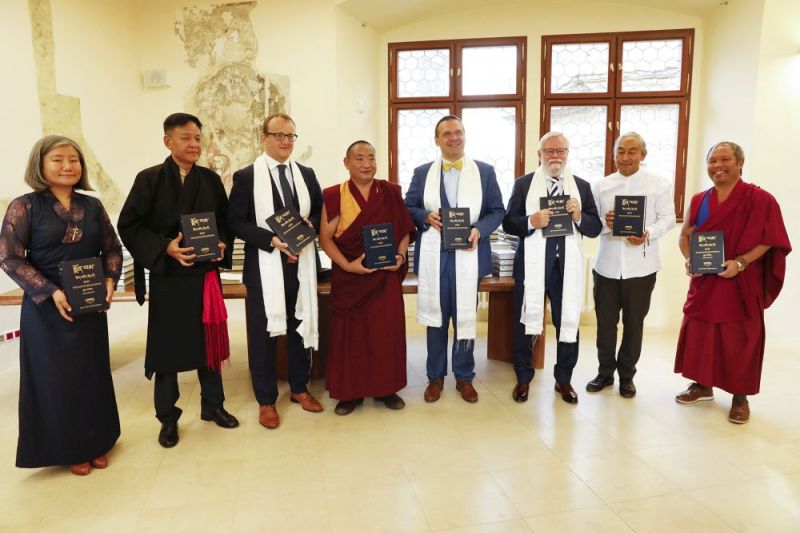 Monlan Grand Tibetan Dictionary is an explanatory dictionary, compiled in the Monlam Tibetan IT Research Centre. It is the result of more than nine-year hard work of more than 200 persons. With more than 200,000 entries in 223 volumes it is a very important work for the Tibetan community. Its main objective is to help preserve Tibetan as a living language. The dictionary was launched by His Holiness the Dalai Lama at the Main Tibetan Temple in Dharamsala on 27 May, 2022.
After the adjustment and cataloguing process, estimated to take about two weeks, the Tibetan donation will be placed in the Scholars´ Reading Room. As part of its reference library it will be available to the NL registered users. Those interested in this field will thus be able to systematically study current terminology and deepen their knowledge of the breadth of this language.
A few selected volumes of the Tibetan dictionary will also be exhibited for a certain period in the ante-room to the General Reading Room to enable to the general public to get acquainted with such an important book.